Café Naturn is a small adult Discord community of my own making, with one of my sole goals being to create a place where everyone can feel equal and just as welcome - no matter how active, inactive, new, old, etc. Mind you, this is not a porn server, it is not the main purpose nor will it ever be. It is just a community of mature individuals.
What is the main purpose then, you may say? This is just a general community server for sharing just about anything, without one talking 'purpose'. It is built to be friendly for lurking or popping in at random, no pressure to take either social (or unsocial) route. No gimmicks, not a lot of bots, just a casual hangout. Much like a Café. We do have an art section, but that's about as specific as we get!
For those who follow me solely for my art, you may notice I only post fully rendered pieces that I am confident in at the time. If it gives you any incentive, I often post many sketches within this server on a weekly basis. I am not comfortable with sharing unfinished work publicly, so I've kept it within this server for a while. If that's something that interests you, then there you go.
For those who don't follow me for my art at all, I will say that the only 'me' thing about this is the vanity. I try not to make things exclusive to 'me', this is just a place I host - it's not about me. It's about housing people in a comfortable environment, and I just happen to decorate the place. If you'd still give it a chance regardless, that'd mean a lot.
If you are interested in popping in, saying hi (or not), then here's the link. Please read the rules before you start posting, as with any server! Thanks, if you read through this, it means a lot. This server has been a big passion of mine, no matter how small, and I'm glad I can speak about it more openly even if brief.
-rabbitsommelier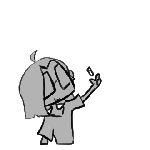 P.S, this is a great place to contact me about commissions, and is what I prefer!